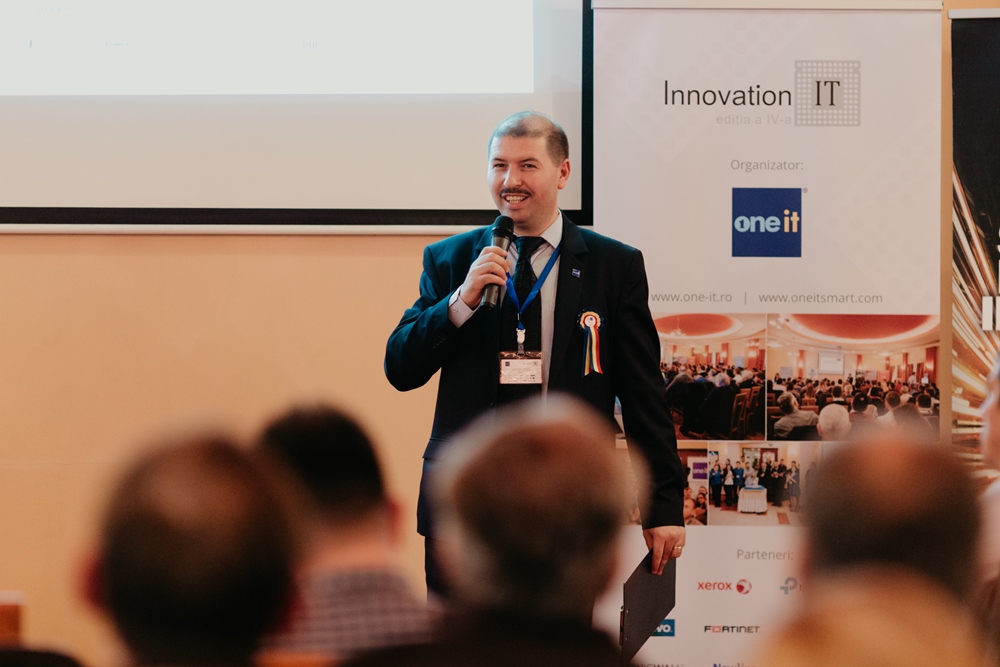 News
Innovation IT 2018: a unique business event organized for the One-IT B2B clients
One-IT held a big event dedicated to its B2B customers. At its 4th edition, Innovation hosted over 130 elite guests.
Innovation IT is already a tradition and has created a bridge between businesspeople with vision and the latest IT solutions dedicated to the business environment, specially designed to streamline and advance regional businesses, and beyond.
This event was successfully organized with the support of the Innovation IT partners: Bitdefender, Xerox, Fortinet, Point Mobile, TP-Link, Lenovo, BlackBerry, SonicWall, Newline, HP, Cooler Master, Ubiquiti, CyberPower, Epson, Spacer, Honeywell, and Elo. Teams of specialists have presented in a novel and interactive way the latest B2B solutions.
The 4th Edition of Innovation IT aims to offer B2B One-IT customers a good space for collaboration, understanding, and knowledge of the latest IT solutions. They are designed to bring real growth to companies that want to grow, streamline their business, and take a breakthrough in business success with the help of new technology in the industry.
At the same time, One-IT successfully celebrated 15 years of business with clients and collaborators, which was possible thanks to the trust and the desire to provide clients with the right solutions for their needs.
The event held a series of innovative and highly relevant solutions for today's business trends and needs.
This year's speakers were from renowned companies in the field and debated topics of maximum relevance, coming up with new solutions specifically designed for the B2B sector. Among the solutions presented were: device security solutions and on-premise solutions, business solutions on smartphones, Augmented Reality Enterprise Solutions, innovative networking solutions, productivity enhancement solutions, advanced interactive collaboration solutions for retail, education, and business. All of these respond to the needs to maximize efficiency and productivity, security and interactive collaboration in business.

In addition to the highly exciting workshops, a demo session was held to present the industry's revolutionary IT equipment and solutions that can be personalized and adapted in real time to each individual customer, according to his needs. During the demo session, the participants had the opportunity to analyze and test the state-of-the-art equipment at the partners' stands.
One-IT had the great pleasure to introduce at Innovation IT its own innovative enterprise solutions based on Augmented Reality technology, with which it has launched itself on the international market. Claudiu Cocioban, Business Development Manager at One-IT, present these new smart solutions. They aim to increase efficiency, reduce human failures and develop in a smart and easy way every undertaken activity.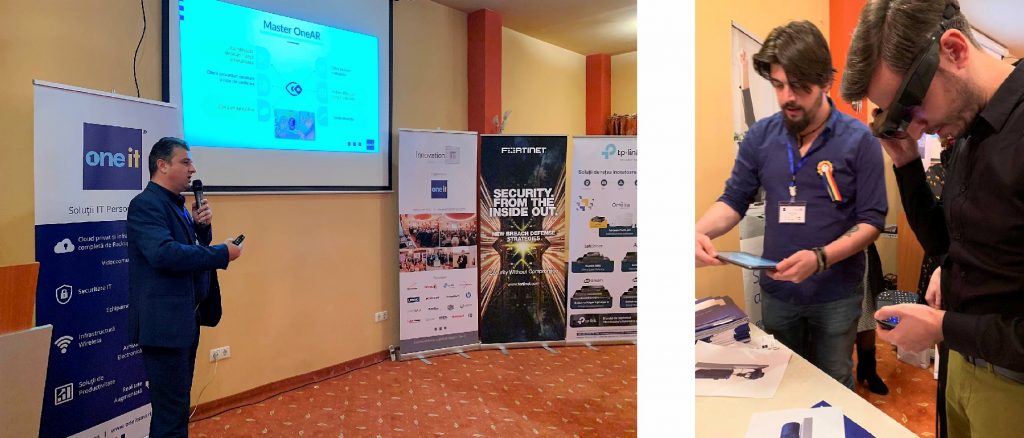 At Innovation IT, clients and collaborators have had the chance to socialize and exchange ideas and good practices, future plans, moments that have strengthened the professional relationships between business people in the area and beyond.
One-IT held a raffle dedicated to One-IT customers and collaborators who received many surprise prizes, such as laptops, phones, multifunction printer, routers, car cameras, coolers, keyboards, headphones, kits etc.
Nicolae Ontiu, the general manager of One-IT said: "Innovation IT is an opportunity for our business customers to connect to new technological trends. On the occasion of this edition, One-IT presented the latest solutions based on the revolutionary technology of Augmented Reality. At the same time, this year we celebrated 15 years of activity with our customers and one-IT collaborators. We would like to thank all our collaborators for having been with us at this event and all these years, and because we have successfully evolved. We want to make sure that we do not stop here and that we continually improve ourselves by offering relevant services and solutions that have a real utility in developing their business."

Paul Belcin, the BackBerry and SonicWall's representative, said: "At present, security is a matter of great interest to all companies that want to perform and deliver confidence. Information held by any organization is prone to external or internal attacks. Therefore, it is vital that data security starts with educating people and that each company is aware of the need to implement solutions to increase and meet the objective of keeping information safe. During this event, I had the opportunity to meet people with vision and concern for the future, and also to share some innovative ideas and solutions that can be of real use to the business environment so that the company's activities and data to be secured."
Bogdan Sarbu, the Fortinet representative, said: "First of all, we thank One-IT for the invitation to take part in a new edition of Innovation IT. Also, we want to convey that we are next to our strategic partners at the regional level, the transferring know-how being a priority for us. One-IT gives users of Fortinet solutions a superior level of expertise, understanding, and use. That is why we want our partnership with One-IT to be a success story for the region that One-IT represents. Congratulations to One-IT Team and we look forward to the next edition."
Mihai Popescu, the representative of Bitdefender, said: "Being on my first visit to Baia Mare and not knowing my partner face-to-face I was pleasantly surprised by the reception made by One-IT. Bitdefender has collaborated with One-IT since the first edition of this great event, and we are glad that we have been with our partner this time. Innovation IT 2018 has meant interaction, real interest, and unprecedented solutions, all in one place. We are glad to have met a lot of people from the B2B sector, who are keen to learn new things from the renowned IT industry brands. This certifies the added value of this event."
Scott Lee, the Korean representative of Point Mobile, added: "This year we have participated for the first time at Innovation IT, as one of One-IT's innovative partners. We could see their powerful energy and enthusiasm, which is the primary driving engine, and we have met numerous potential clients from various industrial sectors. We have no doubt about growing with One-IT in the future, and we will definitely take part in the next events, to deliver together innovative technologies and services all over the world."
Bogdan Stratula, the Xerox representative, said: "We are delighted to together with One-IT at the Innovation IT anniversary, marking 15 years of company activity. Like every year, we were glad to see in public not only a large audience but also very interested people towards the latest trends in the industry. During the workshop, we debated with our guests, One-IT customers, and Xerox users, how digital transformation, adoption of the latest technology influences the organizational environment and the productivity of companies."

Innovation IT is an important and unique event because it brings to the attention of the regional business community innovative solutions and visions that use the latest technology to develop a company's business. At the same time, the direct interaction between representatives of companies in a friendly and professional environment adds value to the professional relationships between companies and allows the promotion of visions focused on the future and professional development at the highest level.
We thank all our partners, collaborators and customers for trusting in us and for being with us all these years. We will continue to offer pertinent and useful IT solutions that add value to each company and lead them on the path to success.
Share on Facebook
TWEET
Share on Pinterest
Share on Linkedin