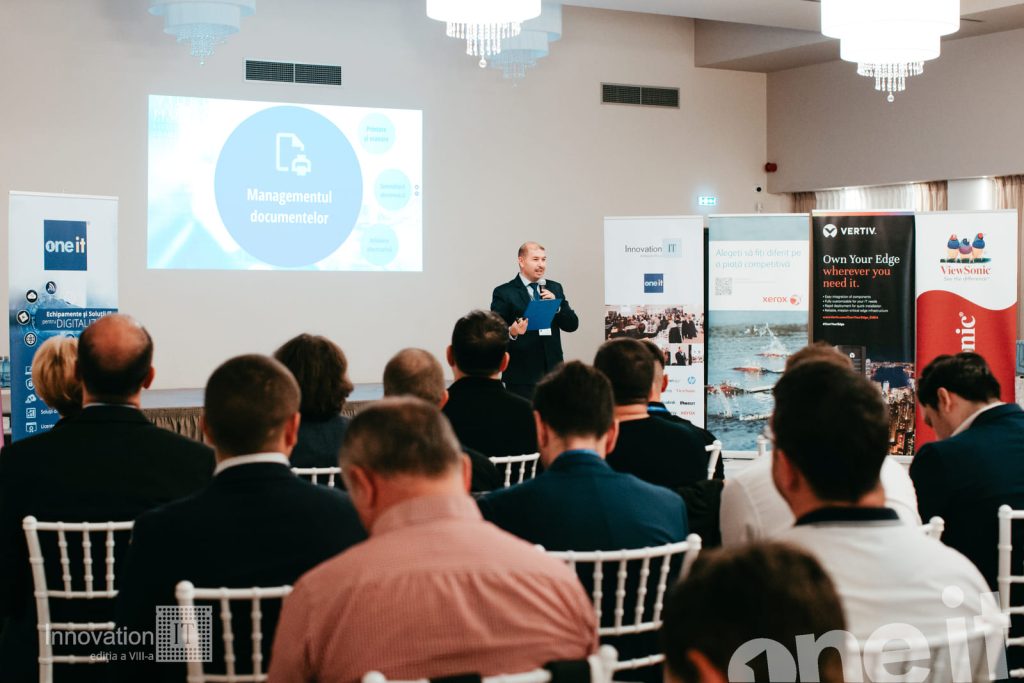 News
Innovation IT 2022, dedicated to One-IT business customers – the largest technology event in North-West Romania
One-IT organized the eighth edition of Innovation IT, the annual event dedicated to the company's business customers, which took place on Thursday, September 22, 2022, and hosted over 130 participants. This is the largest technology event in North-West Romania.
The event took place in the "Primera" room of the Primera Dru Hotel and was addressed to IT specialists and high-level managers among One-IT clients , interested in the news and digitization solutions in business.
This year, we premiered new technologies and practical solutions in the form of a general case study, with the aim of supporting and accelerating the process of business development through digitization.
This was successfully achieved thanks to Innovation IT partners, with whom we managed to build solid partnerships : Fortinet, Dell, Synology, HP, Lenovo, Acronis, ViewSonic, Exclusive Networls, Thales, Yealink, Storage Craft, Panduit, Spacer, Vertiv , Xerox and Bitdefender.
In addition to the dedicated presentations, they demonstrated in a demo session the effectiveness of the proposed solutions and IT equipment, giving the participants the opportunity to test them. In this way, the area dedicated to the stands exhibited by the partners was a point of interest for all participants.
We accelerate the development and digital evolution of your company with the right business technologies!
At Innovation IT, we proposed to clients a new concept for presenting business technologies, bringing to the fore relevant IT solutions and equipment for the digital transformation of business.
During the event, customers had a comprehensive presentation of the right IT technologies that help solve today's biggest challenges:
 Increasing productivity in the activity;
 Document management efficiency;
 Data storage for information availability and security;
 Digital security of the IT infrastructure;
 Ensuring business continuity;
 Improving digital connectivity and communication;
 Implementation of suitable IT solutions with financing opportunities.

The directions presented above were developed in a series of presentations given by our partners themselves. These were included in a general case study, presented by Nicolae Ontiu, CEO & Founder of One-IT, and which any company must take into account in order to streamline and optimize its activity.
Increasing productivity in the activity
Productivity is an essential element in the development of any business. And its improvement is supported by the right technologies. This idea was followed by Manuel Mirescu, the HP representative, who brought up-to-date information related to sustainable technology and IT equipment that define the work environment of the future.
He stated: "In a world where the way we live or work is increasingly accelerated, the need for efficiency, automation and calibration is essential. Technology surrounds us and especially organizations must quickly adopt innovation and digitization in order to adapt to the dynamic needs of users and the business environment. HP is a global leader in technological innovation and supports them through an ecosystem of partners with advanced capabilities and specializations, innovative products, solutions and services suitable for any type of business, which together can deliver advanced experiences. At the same time, we act responsibly and have a sustainability strategy aimed at climate change, human rights and digital equity. "
Streamlining document management
Documents are vital in the daily activity of businesses, which is why we focused our attention on the efficiency of document flow, about which Bogdan Cobuz, Xerox representative, spoke at length at the event, emphasizing the right printing technologies that redefine work for a flexible world.
He stated: "The trust and respect we have encountered in the ONE-IT team gives us the guarantee of a solid partnership."
Digital documents have become part of the daily routine, which is why they need security and digital identity. In this context, Mircea Murgu, the representative of Thales, spoke about the importance of using the electronic signature and the advantages of choosing the right solution in business.
As the European leader in cyber security and the world leader in data protection, Thales addresses the entire life cycle of information security, the cornerstone of digital trust. Thales helps secure the digital transformation of the most demanding government entities, private firms and critical infrastructure providers.
Data storage for information availability and security
As we know, business data must be available and accessed at any time, and the first step is to develop an IT infrastructure that works at optimal parameters. Radu Cornilă, from LASTING System, DELL representatives at our event , who presented technological solutions that keep such an IT infrastructure healthy , spoke about this .
Dell is a global brand that focuses on providing PCs, laptops, servers, data storage devices, network switches, dedicated software, etc.
And because data is a company's most precious resource, Jung Tamás, representative of Storage Craft, brought up the need for availability and security of information with the help of immutable storage.
Storage Craft is an American company that provides backup, disaster recovery and business continuity solutions for servers, desktops and laptops.
Being aware of the importance of active protection of business data, Mihai Marcu, representative of Synology, provided important details about backup solutions and cloud services that ensure the integrity, availability and recovery of a company's data.
He stated, "Creating a strong community is a great achievement. Congratulations to One-IT for a successful role and for the entire business! One-IT manages to be a strong magnet in the field, attracting and keeping around them quality people. Thank you for promoting Synology storage and backup solutions, complete solutions with a high degree of reliability, an investment that pays for itself in a short period of time."
Digital security of the IT infrastructure
Silvia Filip, Acronis representative, came with news and concrete examples of solutions capable of providing cyber protection against the most complex digital attacks targeting businesses.
Acronis is a global technology company that develops on-premise and cloud software with integrated backup, disaster recovery and cybersecurity.
Lately, cyber threats have become a real challenge for companies, and that's why the Bitdefender partner came up with the new cyber resilience trends, along with solutions for digital prevention and protection of any business.
The technology brings new approaches to the issue of digital security, which is why Tudor Manea and Maria Arvat, representatives of Exclusive Networks Romania (Veracomp Europe) presented Fortinet solutions and discussed common scenarios for using SD-WAN technology, as well as complete security solutions. cybersecurity with which businesses can obtain complete digital protection.
Fortinet is a world leader in integrated cyber security solutions, providing customers with the ability to have visibility and complete control over the entire attack surface.
Ensuring business continuity
One of the main goals of any company is business development and continuity, which is why Bogdan Strătula, the Vertiv representative, came up with an original approach to ensure a clean and uninterrupted supply flow in the company, emphasizing the small details in the server room and the major impact they have on the performance of business devices.
He stated: "I am honored and happy to participate, for the eighth time, in Innovation IT, a series of events that has reached its eighth edition. I appreciate One-IT's involvement in promoting state-of-the-art IT solutions to the Baia Mare business community. As a Vertiv partner in the Maramureș area, One-IT thus facilitates the access of local companies to the complete infrastructure solutions from the Vertiv portfolio."
Improving digital connectivity and communication
When there is a functional IT infrastructure, the next step is to improve the network with the right business solutions, about which Valentin Ruse, the Panduit representative, spoke at length , emphasizing the scaling and efficiency possibilities of a well-thought-out network infrastructure and reliable dedicated technologies .
He said: "Thank you for the invitation to this important regional event where I had the opportunity to showcase Panduit solutions and engage with companies that could benefit from them."
Panduit is a global manufacturer and supplier of physical infrastructure equipment in the power, communications, computing, control and security systems segment.
In addition to the technologies already presented above, any business needs to be able to communicate effectively and collaborate as productively as possible from anywhere. This is what Bogdan Tănăsescu, the representative of Exclusive Networks Romania (Veracomp Europe) , who presented Yealink solutions , discussing the unified communication and business collaboration technologies, spoke about.
Yealink is a unified communication (UC) solution provider, offering video conferencing systems and audio communication solutions. Yealink is the second largest SIP telephony provider in the world and is number one in the Chinese market.
Implementation of suitable IT solutions with financing opportunities
The presentation session was concluded by Valentin Guran , who emphasized effective digitization opportunities through non-refundable financing, a way that can be suitable for many companies in Romania, especially in this period.
As a sign of gratitude for the clients and partners who ensured the success of this edition, Nicolae Onțiu, CEO & Founder of One-IT, said:"Innovation IT has become, over time, a benchmark for the regional business environment and today it has become the largest technology event in North-West Romania, thanks to our customers. With each edition, we bring new options for growing their businesses through technology. And the presence year after year at this event and the openness of our partners to come back with news and useful solutions in business, gives us the motivation to continue on this path. I thank the clients for their trust and interest in the solutions we offer, as well as the partners who once again responded to the challenge of bringing solutions and IT equipment capable of meeting the needs of every business category."
Following the eighth edition of Innovation IT, the One-IT team would like to thank each individual client and partner who contributed to the success of this event .
Share on Facebook
TWEET
Share on Pinterest
Share on Linkedin