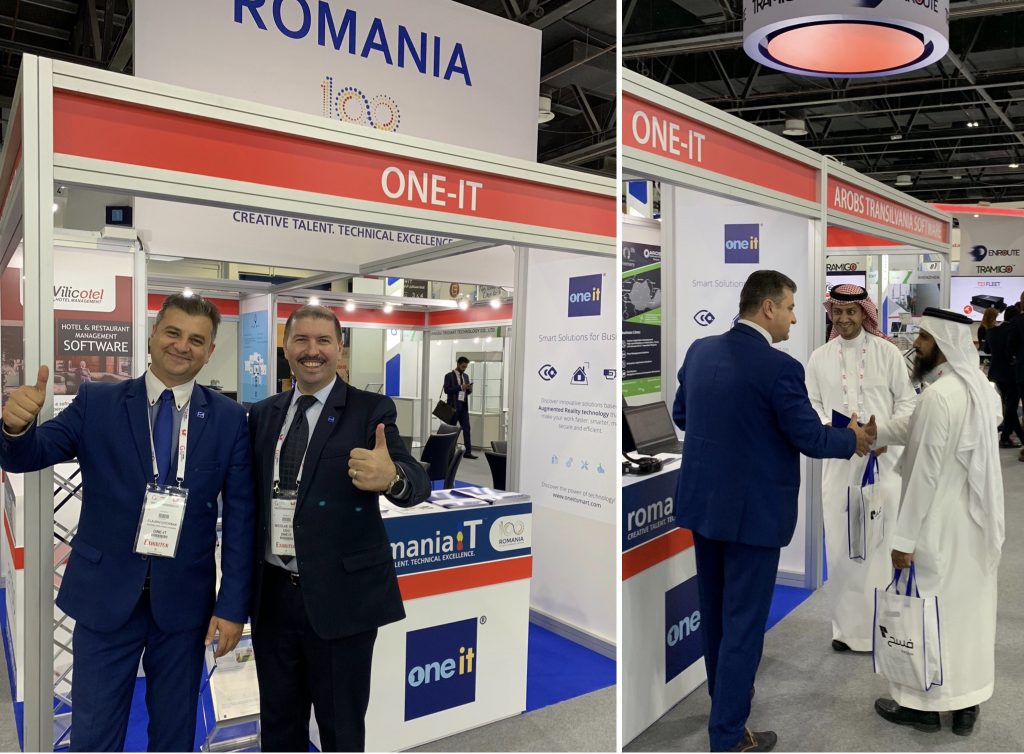 News
Press Release
Augmented Reality technology solutions presented by One-IT at Gitex Technology Week in Dubai
One-IT attended Gitex Technology Week, which took place in Dubai from October 14-18, where it presented the latest business solutions based on Augmented Reality technology.
Gitex is an important event in the field of technology. It is the biggest technology show in MENA and South Asia, and a great opportunity because over 120 countries and global media outlets exhibited their latest technology solutions like AI, the blockchain, robotics, cloud, and others.
On this event, One-IT participated as an exhibitor in the exhibition fair, where it presented to visitors and potential clients the latest smart solutions, based on Augmented Reality technology. These solutions are Master OneAR, OneARchitect, and One Assistance.
Master OneAR is a training solution for maintenance and service that uses Augmented Reality to give valuable and intuitive instruction. It is used to view assemblies of asset components to help operators understand the complexity of critical machines. Working with these tools reduces failures and increases efficiency.
One Assistance is an application specifically designed for competitive and innovative companies. This solution is ideal for monitoring on-site services, with remote mobile assistance and support based on live audio and video streaming and recording.
OneARchitect is an application designed for architecture, construction, and real estate companies. By translating 3D sketches into the application, companies can show their clients how the house or real estate is going to look like and make changes in the project, using smart devices. This solution adds value to the sale.
With these solutions, companies can improve their workflows, by increasing efficiency and making people work faster, smarter and safer. Two of these solutions give intuitive instructions and live assistance to technicians from various industries, and another solution gives a modern way to visualize and modify a real estate project.
Nicolae Onțiu, General Manager of One-IT, said: "At Gitex Technology Week we had the great opportunity to present our AR business solutions, that can truly give a reliable alternative that uses this technology to simplify, streamline and develop any activity in your business. Many people visited our stand and had the chance to see our solutions in action. We received great feedback from visitors and potential clients. We believe that our participation in one of the biggest technology shows in the world was a success, and seeing all the other exhibitors with their solutions, motivates us to continue promoting our own applications to the world."
Claudiu Cocioban, Business Development Manager of Smart One-IT Solutions, said: "Our solutions have attracted the attention of several potential clients in the area, and we were even invited to private meetings at their offices to discuss a possible partnership with their companies on the MENA market. This is another confirmation that our solutions are revolutionary on the Augmented Reality market."

Currently, One-IT focuses on offering enterprise Augmented reality solutions in the industrial domain, Oil, Gas & Manufacturing, and energy area. In addition, following several discussions on the exhibition, One-IT was asked to start developing smart solutions in the education area as well.
For five whole days, One-IT exhibited the three solutions based on Augmented Reality technology. It is undeniable the necessity of the next-generation technologies. They aim to increase efficiency, reduce human failures and develop in a smart and easy way every undertaken activity.
One-IT continues its path to introduce these smart solutions based on Augmented Reality technology throughout the world.
One-IT — Smart Solutions for Business
https://www.oneitsmart.com/augmented-reality-in-business/
Share on Facebook
TWEET
Share on Pinterest
Share on Linkedin