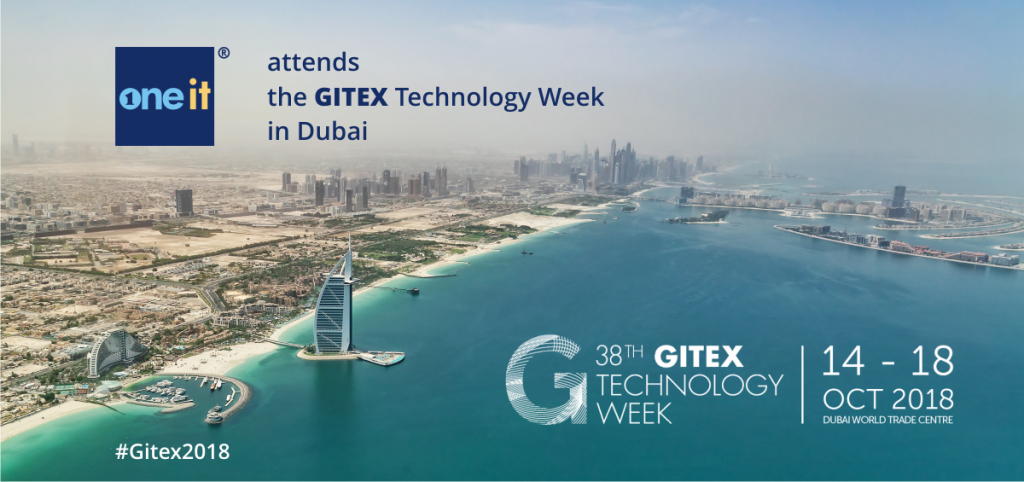 News
Press Release
One-IT attends the GITEX Technology Week in Dubai
After the successful participation in MES San Diego California, One-IT continues its way to introduce smart solutions based on Augmented Reality (AR) technology throughout the world. This time One-IT attends the Gitex Technology Week, to be held in Dubai from October 14-18. 
Gitex is the biggest and boldest technology show in MENA and South Asia. It is a great opportunity because over 120 countries and global media outlets will exhibit the latest solutions around megatrends like AI, the blockchain, robotics, cloud, and others.
One-IT takes this participation as an opportunity to reach across boundaries and to show the efficiency of our AR solutions.  (More about these solutions: Power of Augmented Reality in Business)
At this event, One-IT will participate in the exhibition fair, where will introduce the 3 latest smart solutions, based on Augmented Reality technology. These solutions are Master OneAR, OneARchitect, and One Assistance. The solutions focus on taking companies to the next level, by reducing failures and increasing efficiency. This way, they will directly facilitate the workflows, and by providing smart training and assistance, they will make people work faster and more efficient.
Master OneAR is a training solution for maintenance and service that uses Augmented Reality to give valuable and intuitive instruction. It is used to view assemblies of asset components to help operators understand the complexity of critical machines. Working with these tools reduces failures and increases efficiency.
OneARchitect is an application specifically designed for architecture, construction and real estate companies. By translating 3D sketches into the application, companies can show their clients how the house or real estate is going to look like and make changes in the project, using smart devices. This solution adds value to the sale.
One Assistance is an application specifically designed for competitive and innovative companies. This solution is ideal for monitoring on-site services, with remote mobile assistance and support based on live audio and video streaming and recording.
For 5 whole days, One-IT will exhibit these innovative solutions. Every company that wants to improve their workflow, to train their people by providing live assistance during their procedures, who want to give more value to their projects, will have the opportunity to find out more about these solutions and to see them in action.
Visit us at Hall 1, Stand no. B1-80!  ->> see GITEX MAP
We thank everyone for all the great support and for sharing our vision of promoting Romanian smart IT solutions all around the world.
Discover our smart solutions based on the Augmented Reality technology by visiting our official website.
Share on Facebook
TWEET
Share on Pinterest
Share on Linkedin