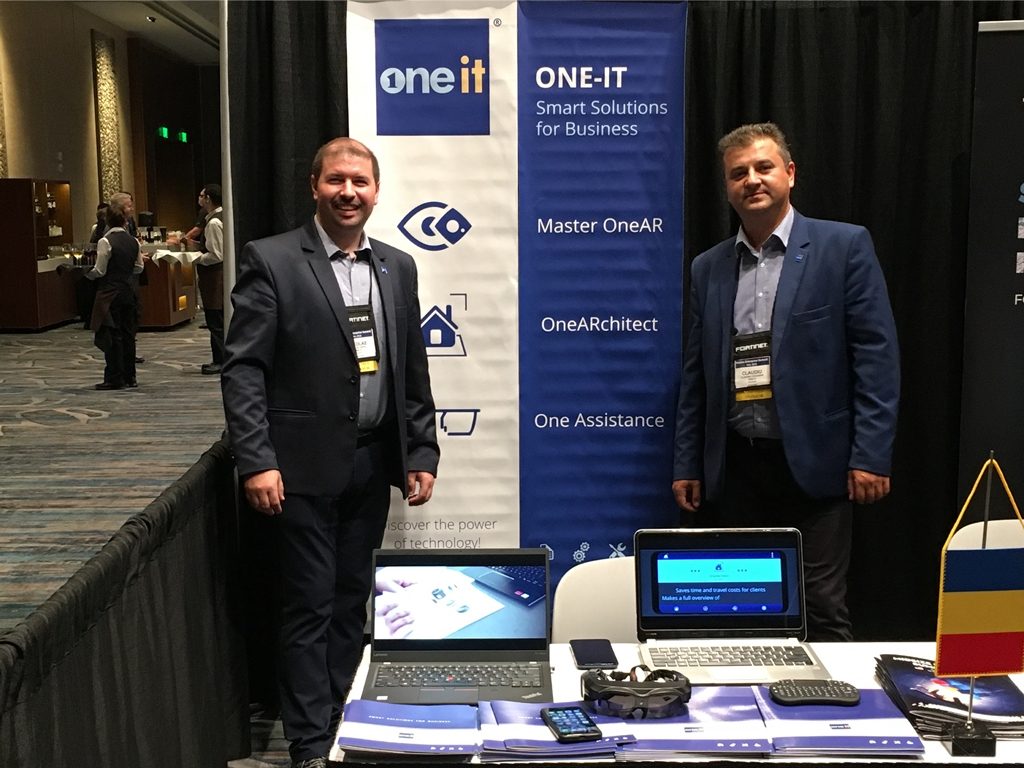 News
Press Release
One-IT introduces on the international IT market, innovative business solutions based on Augmented Reality technology
One-IT Company attended the Midsize Enterprise Summit in San Diego, California (USA) from September 16-18. Along with other IT leaders, the company had the opportunity to present new smart solutions based on Augmented Reality technology.
The purpose of this event was to gather medium-sized IT Solutions providers to present their products and services to over 240 companies in different areas who are looking for efficient and efficient IT solutions for their companies.
The event hosted many global IT market leaders who shared their knowledge, ideas, and solutions with other IT enthusiasts and entrepreneurs. These include HP Enterprise, Intel, Mimecast, Scale Computing, Information Builders, Ruckus Networks, WatchGuard, Fortinet, Symantec, Dell EMC, IBM, Lenovo, Barracuda, and others.
At this summit, the participating medium-sized companies presented their proposed solutions, the vision and had the opportunity to make a live demonstration of the effectiveness of the promoted solutions.
One-IT presented at the summit and at the exhibition of products/services, 3 smart solutions based on Augmented Reality technology: Master OneAR, One Assistance, and OneARchitect.  These technologies have major business benefits and  applicability to increase productivity.

Master OneAR is a training solution for maintenance and service that uses Augmented Reality to give valuable and intuitive instruction. It is used to view assemblies of asset components to help operators understand the complexity of critical machines. Working with these tools reduces failures and increases efficiency.
One Assistance is an application specifically designed for competitive and innovative companies. This solution is ideal for monitoring on-site services, with remote mobile assistance and support based on live audio and video streaming and recording.
OneARchitect is an application specifically designed for architecture, construction and real estate companies. By translating 3D sketches into the application, companies can show their clients how the house or real estate is going to look like and make changes in the project, using smart devices. This solution adds value to the sale.

Nicolae Ontiu, the general manager of One-IT, said: "Every solution designed and developed by One-IT is based on something different and innovative, a reliable alternative that uses technology as a way to simplify, streamline and develop any activity. But what differentiates us is the reason we develop these solutions. And the reason is that each client or company can truly benefit from the latest technology on the market and implicitly from the facilities they offer. That is why the participation in the MES is so important to us because we can promote worldwide our new augmented reality solutions."
Claudiu Cocioban, Business Development Manager of Smart One-IT Solutions, said: "At this Summit, we have been successful over our expectations; many participants have been very interested in the augmented reality solutions proposed by One-IT. In addition, we also concluded our first US partnership agreement at this summit. It's a promising start, and so our innovative solutions start to be known in the American market."
Through these innovative solutions, One-IT can bring businesses to the next level by improving workflows, helping people work faster and more efficiently while reducing failures and increasing efficiency.
About One-IT
One-IT is a provider of customized IT solutions.
For more than 15 years, One-IT has asserted itself in the regional market and beyond, through the quality of its products and services, as well as personalized IT solutions for business. Over time, the company has become a regional leader in the national IT market and continues to offer technological innovation for the development of companies and, implicitly, the business community in the region.
Thanks to the professionalism, the quality of the products and services offered, as well as the constant involvement in its own development, One-IT was in three consecutive years in the Top of Companies in Maramures County, in the trade field in computers, equipment, and IT solutions.
Currently, it continues its expansion on the international market with the help of new smart solutions based on augmented reality technology.
One-IT — Smart Solutions for Business
https://www.oneitsmart.com/augmented-reality-in-business/ 

Contact information
Claudiu Cocioban, Business Development Manager
E-mail: claudiu.cocioban@oneitsmart.com
Share on Facebook
TWEET
Share on Pinterest
Share on Linkedin