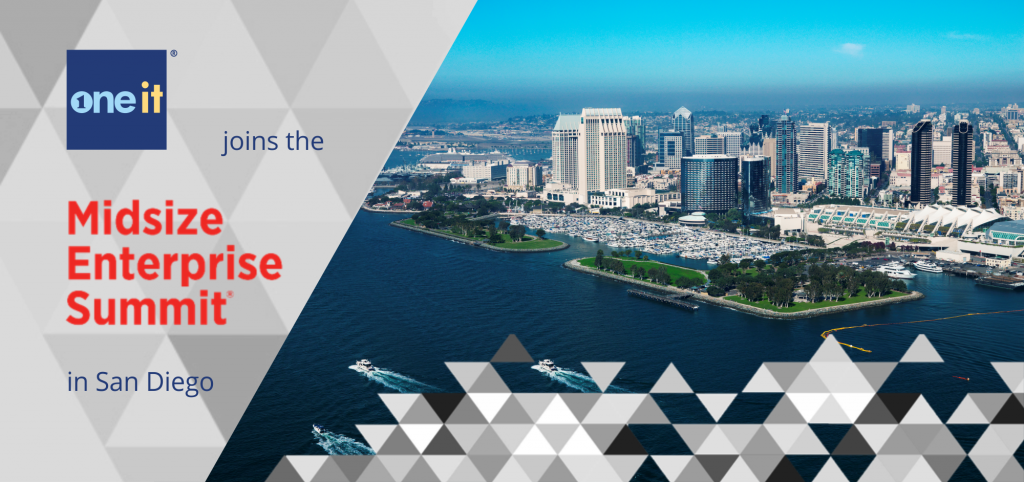 News
One-IT participates at the Midsize Enterprise Summit in San Diego
One-IT will take part in the Midsize Enterprise Summit, to be held in San Diego (California) between 16-18 September. MES is the Largest Gathering of Midmarket CIOs and Senior IT Executives.
Nowadays, IT leaders need to build a strong relationship with their clients or potential clients, and to stand apart through technology, providing true value to customers, partners, suppliers, and stakeholders. The purpose of this event is to gather the business leaders in the right environment, where the companies can show that they can deliver the tools to build a better future.
One-IT will be among other IT leaders from around the world and will be presenting solutions that will create a bright tech-enabled future.

This gathering will have dozens of leaders in the IT market, ready to share their knowledge, their ideas and their solutions with other IT enthusiasts. Among them, we mention HP Enterprise, Intel, Gartner, Mimecast, Scale Computing, Information Builders, Ruckus Networks, WatchGuard, Fortinet, Symantec, Dell EMC, IBM, Lenovo, Barracuda, and others.
This Summit will be the space for great presentations, where experts share their brand and industry perspectives. Also, interactive boardroom appointments will give the opportunity to target groups of pre-qualified IT executives segmented by technology interests. And this is not all; there will be a show floor, where every company will have the perfect setting for a live product demonstration, for face-to-face meetings and networking.
The One-IT solutions use augmented reality, an improved version of reality. Through our innovative applications, we can bring businesses to the next level by streamlining work processes, making people faster and smarter at work, and reducing failures and increasing efficiency.
At the Midsize Enterprise Summit, we will present our top 3 smart solutions: Master OneAR, One Assistance, and OneARchitect.
Master OneAR is a training solution for maintenance and service that uses augmented reality to give valuable and intuitive instruction. This training solution is used to view assemblies of asset components to help operators understand the complexity of critical machines. Working with these tools reduces failures and increases efficiency.
One Assistance is an application specifically designed for competitive and innovative companies. The solution created by One-IT is ideal for monitoring on-site services, with remote mobile assistance and support based on live audio and video streaming and recording.
OneARchitect is an application specifically designed for architecture, construction and real estate companies. By translating 3D sketches into the application, companies can show their clients how the house or real estate is going to look like, using smart devices. Moreover, they can walk through the building and see live the size and features of the property. Also, they have the opportunity of making changes. This solution allows companies to offer their clients a modern way to visualize the desired real estate project, bringing more value to the sale.
This is just the beginning of the new stage in which One-IT develops and provides smart solutions for business, based on augmented reality technology.
We thank all our clients, partners and collaborators, who trusted and motivate us to develop new solutions that will bring more value to their business.
We invite everyone to discover our new products, and services by visiting our new website that presents our new department: One-IT Smart.
OneARchitect video presentation:

Share on Facebook
TWEET
Share on Pinterest
Share on Linkedin